April 18, 2015
 While April has been quiet on the auction front, plenty has still been happening in the world of Melbourne real estate.
 As expected, there have been a number of quiet buying opportunities.
Some of the better off-markets we have visited:
Classic 1950s home in Studley Park Kew for early $2m
Good-sized timber Edwardian ripe for renovation in a prized Hampton location – high $1m
Neat Californian Bungalow on about 700m2 in a prime Canterbury location – great to live in now or upgrade in time – early $2m
Updated period home in Albert Park, not far from the beach for $2.7m
Well renovated period home in St.Kilda East – mid $2m
Large double-storey modern home in Glen Iris on good land with a pool –  $3m
Modern two-storey townhouse with an architectural edge in Prahran– high $1m
The numbers at open for inspections have been healthy. We visited the first opens of the two Malvern properties and these should be very well supported by the market.
27 Horace Street Malvern (Rae & James Tomlinson, Marshall White) – really well renovated single level timber home – should sell well into the $2 millions, as the floorplan is a really sensible one and will appeal to a wide buyer group.
36 Cawkwell Street Malvern (Phillippe Batters/Kait Davis, Williams Batters) – dated period timber home, livable yet ripe for renovation. The key to this property is block width.
Some bigger April sales of note –
Once Anzac Day has passed, the focus well and truly turns to May and this looks to be a busy time. May has five Saturdays this year, and the latter two should be huge in terms of auction numbers.
 In terms of interesting home architecturally, two we visited this week worth mentioning:
19 Kooyongkoot Road Hawthorn (James Scarff/Robert Ding – Marshall White)
Locals would know this property well. It is very different and designed by renowned local architects Roger Wood & Randall Marsh. Looking a bit like an 'upturned boat', this an edgy modern home that has a monochrome internal palette and an understated façade. We really liked it – will others?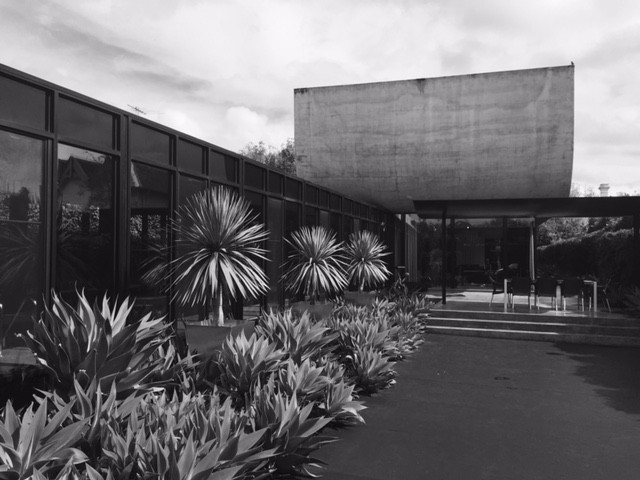 26 Woodside Crescent Toorak (Darren Lewenberg / Michael Armstrong). Decades on, Wayne Gillespie-designed homes continue to draw attention from astute buyers, as they are classically designed, light and bright and the room proportions still work. While livable now, this could be easily updated to suit 2015 trends, and the location is a good one.
Properties recycled:
Interesting to see 20 Studley Avenue & 52a Molesworth Street Kew back up for sale, not long after they sold. Both are marketed 'quietly' on the internet by Chinese agencies. Is the vendor pressured to sell or are they simply looking to capitalise on a very buoyant market?
 3 Arthur Avenue, Brighton was represented for auction on Saturday after passing-in last year, selling above $2.5m (Stefan Whiting/Andrew Campbell, Buxton).
4 Stewart Street, Brighton (Jason Gill, Hodges) has sold circa mid $3m after trying to sell last year unsuccessfully.
Auction Highlights:
 46 Gardiner Parade, Glen Iris (Damien Davis, Jellis Craig), passed in, $2.1m, vendor bid
A great house to entertain in: around 80 people comfortably fit on the deck and around the pool as they waited for Damien Davis to start proceedings.
The large, renovated home is on a large allotment of around 902sqm, according to Mr Davis, and sits proudly in its corner position, surrounded by parklands, while established hedging allows for ultimate privacy.
After calling for an opening bid in the vicinity of $2.1m, but unable to secure one from the crowd, Mr Davis instead tabled a vendor bid at this amount.
Despite his best efforts, Mr Davis was forced to pass the property in at this level shortly after.
43 Surrey Road, South Yarra, Lachie Fraser-Smith (Jellis Craig), under hammer, $1.7m, 4 bidders
The quiet start to this auction was no indication of how it would end! Auctioneer Lachie Fraser-Smith went through the preliminaries enthusiastically but was met with silence from the 50 or so people that had gathered to watch, so he tabled a vendor bid of $1.2m in the hope of kick-starting proceedings.
This had the desired effect, and soon there were four bidders vying for the prize. At $1.5m, Mr Fraser-Smith announced that the reserve had been met and after a long battle – and some heckling from a small child across the street – the hammer came down to the happy new owner at $1.7m, almost $1m more than its previous sale in 2002.
8 Normandy Road, Elwood (Peter Kennett, Hocking Stuart), passed in, $3.55m, vendor bid
The always entertaining Peter Kennett stood front and centre extolling the many virtues of this Elwood home that was built circa 1916 and last sold by Hocking Stuart to the current vendor 25 years ago.
With the beach at one end of the street, and the vibrant Ormond Road shopping strip at the other, the home on more than 1000sqm had attracted a good size crowd of around 55 people.
Opening on a vendor bid of $3.4m, Bidder 1 offered $3.5m before a second vendor bid of $3.55m was tabled. The property was passed in with no further bids on the day.
Architectural Insights: The Power of Light
Natural light is critical: it really makes a house a home. As humans, we need light to survive, and in the day-to-day living within a house it can really affect your emotional state of mind. A 'happy' house is one that is often described as light and bright, and these often perform the best in terms of capital growth and resale.
In Melbourne, passive solar design is a very important consideration, given we live within a temperate climate. While things can get quite hot in summer, the winters can be cold and any opportunity to capture natural warmth into a home is well rewarded.
When we talk about orientations of property, 'north facing' is often brought up as a key plus to a property. By this, we are referring to the orientation of the rear, and this is often where the private living areas (internal and the external) are located and where the home is mainly lived in during daylight hours. In simple terms, having windows with a northern orientation means that the sunlight can enter directly, hence accentuating the sense of light and passive solar gain.
A well-designed home will try and take advantage of as much access to direct natural daylight as it can and that is often in the forefront of the minds of architects and good building designers.
When inspecting a home, one should always take a good amount of time observing light and natural warmth levels, particularly in the kitchen and informal living spaces. If artificial lights are needed during daylight hours (and often agents will have these turned on, to improve the house appearance), then there is a good chance that the spaces will be seriously challenged for natural light, and you will need to rely on turning on lights for most of the day. This can significantly raise energy costs but, perhaps more importantly, it can seriously impact on the light, warmth and feel of the space.
The 'quality of life' difference between a south-facing rear home and north-facing rear home (if the layout is similar) can be huge. One recommendation we often make to buyers who are looking at south-facing rear homes is spend time in the rooms that front the street (ie those with north-facing windows) and then compares your feelings when spending time in the rear section sections of the house (with south-facing rear windows). The difference is often profound!
Agent Opinion: Off-market activity now and looking forward
Richard Winneke (Jellis Craig): "In quieter times(ie school holidays), and moving into winter, we will – and have already seen – an increase in off-market sales in particular in Boroondara. I would advise buyers to have a contact at all leading agencies and a contact with leading buyer advocates to ensure they are not missing out on the quiet ones."