June 27, 2015
As we hit the halfway mark for the year, the Melbourne property mark continues to look healthy for sellers. Buyers are going to need to be on their 'A' game to ensure they buy the right home rather than any home.
Vendor expectations have started to creep up, in some cases above buyer expectations, particularly on properties with some concerns, no doubt hoping to capitalise on a good result because buyers are tired and frustrated and ready to buy anything – particularly without competition.
The winter months are traditionally a time of little activity, however, this has certainly not been the case this month, with many big sales taking place both at auction and off-market.
That being said, the next two weeks, (coinciding) with school holidays, will be quiet as most agents take time off to spend with family.
Talking over coffee with Michael Armstrong (Kay & Burton) during the week, he said he has had the busiest June ever which seems to be a general sentiment amongst agents.
There were fewer auctions on the weekend, many areas already quieting down for the holidays.  Boroondara was the exception with a number of big auctions such at 126 Sackville Road Kew, 6a Raven Street Kew and 1A Monomeath Avenue Canterbury all selling over $3million.
Some highlights:
20 Studley Ave Kew (Belinda van Suylen/Jimmy Zang, Ray White Glen Waverley) sold strongly, quickly rising to $4.58m after selling just over $3m only 18 months earlier in January 2014.  A fine home of great architectural merit by Sir Osborne McCutcheon, the layout largely in original condition with just a cosmetic update since the last sale.
60 Kooyong Road Armadale (Tim Picken, Kay & Burton) strong at $2.71m with 7 bidders fighting it out.   A period home, yet a busy location and a few floor plan quirks. The big plus may have been the development potential, a pending multi-storey development to properties on the northern side only helping in terms of precedence. Such properties back in 2011 and 2012 were not at all favoured in the market – it's a different story now.
35 Tourello Avenue Hawthorn East (Tim Heavyside, Fletchers).  920sqm, predominantly land, north rear sold before auction for $3.35m or $3641sqm.   Although replacement of the home may be on the cards in the future, the home was an interesting one (originally a Victorian that had been renovated many times to adapt to a growing family's needs), and the vendor's thoughts on the information sheets made for great reading. This clearly was a happy family home.
One that faltered:
51 Service Street, Hampton (Lambros Bollos, Buxton) passed in on a vendor bid of $2.1m.  855sqm with approved plans for three townhouses.  With early and strong interest in the campaign, the vendors opted to wait until auction, with no result on Saturday.
Off-markets:
large modern home in Anderson Park area, Hawthorn East – circa $4m
nicely renovated period home on good land in Camberwell's Sunnyside Estate – $3.3-3.5m
solid single-level period home in good condition in a signature Armadale street – $4m
renovated three bedroom timber cottage, Hawthorn East – circa $1.6m
elevated family home in Kew, north facing rear  – $3.2-3.5m
large 3 bed townhouse, Brighton Beach early $2millions
Looking ahead, buyers may take comfort knowing that the auctions for mid-late August look to be very healthy ones in terms of numbers with two of the Saturdays potentially offering over 1000 properties to buyers.
Architecturally Speaking: Townhouses
A trend we are seeing in the market is the popularity of townhouses with buyers. This wasn't really the case a few years back and it does seem that the dream of owning a property with a good-sized backyard to kick the footy around in is fading fast and the position along with a home that it easy to maintain is now an attractive option for families with busy lives.
Some things to look for:
Good bedroom separation (ideally a main bedroom suite on the ground floor)
Double car garaging
Access to north light (being the 'south side' semi-attached dwelling really does affect the warmth and feel inside)
Good amounts of storage
Auction Highlights:
20 Studley Ave, Kew (Jeremy Tyrrell, Ray White), under hammer, $4.58m
I was looking forward to this auction. It last sold early 2014 for just over $3m, and it is landmark local property with fine architectural merit. This would be good gauge of the Kew market, and with at least 7 properties selling in Kew area for around $2.5m and above in June alone.
Auctioneer Jeremy Tyrrell gave a concise, professional spiel in front of around 40 people on the elevated front garden, with the the towering McCutcheom designed home in the background.
Opening with a crowd bid of $3.18m by Bidder 1, Bidder 2 chimed in not long after and literally after about 2 minutes and about 10 bids the property sold for a whopping $4.58m!
The market in Kew is strong right now, and the strategy employed by the buyer (who was was not Asian looking in appearance) was a sound one – bid boldly and confidently, hitting a number with 8 in it each time.
Great result for the vendor, who did not make any major structural changes since they bought the home but was smart in the design of the cosmetic upgrade and the overall internal presentation.
51 Service St, Hampton (Mark Earle, Buxton), passed in $2.1m
Auctioneer, Mark Earle, started the auction by informing the crowd that around 100 contracts had been emailed to potential buyers. We were expecting some excitement!
After the usual slow start, Mark placed a vendor bid of $2m searching for a bidder to present. Eventually one did, offering $50,000, however, once it became apparent that there were not going to be any other bids forthcoming, Mark placed a second vendor bid of $2.1m and passed the property in.
376 & 374 Montague St, Albert Park (John Holdsworth/Shane Siemers, Hocking Holdsworth)
Number 376 went to auction first, a pretty Victorian that has been updated and extended with an architect designed renovation. John Holdsworth was MC in front of a big crowd of nearly 100 people, all keen to see what would happen at this double auction in Albert Park. Unable to secure any genuine bids from the crowd, John was forced to pass the property in on a vendor bid of $2m. Most of the spectators lingered to see what would transpire next door at 374, an un-renovated single-fronted Victorian currently offering three beds and one bathroom. A couple of bidders battled it out to the pass in price of $1.14m, before the property was sold after auction for $1.16m.
Agent Opinion: Do you have an predictions for Spring? With such a strong market in Boroondara, especially Kew, do you see an end in sight for the solid competition?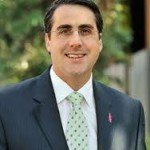 Peter Vigano (Jellis Craig): "As we are now in winter there are less and less properties coming onto the market, however buyer demand remains constant all year through.  For  any new properties that come onto the market in August in readiness for spring auctions, we expect to see pent up demand and prices continue to rise due to increasing demand due to the shortage of properties available. We are expecting a very busy spring selling season and we cannot foresee the market slowing down anytime soon."